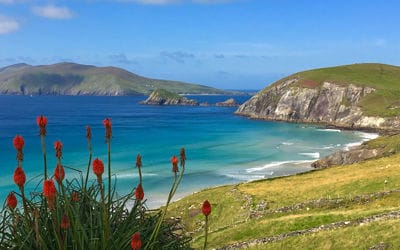 Scattered with ancient huts and historic buildings, the Dingle Peninsula has the most rugged coastline in Ireland. Considered by many to have some of Europe's most spectacular scenery, the peninsula also supports a rare and unique assortment of flora and fauna. However, a great deal of traditional Irish heritage is maintained in this Irish-speaking (Gaelic) region (a Gaeltacht), including traditional Irish music, art and crafts.
The first stop is at Griffin's Pub in Castlemaine at 10.50 am, followed by a break for morning coffee/walk on Inch Beach at 11.30 am for about 20 - 30 minutes.
Onwards to Dingle coach park, where we stop at 14.00. After a short stop, the tour continues to Ballyferriter, where we make another stop at the local Church at 14.45.
Slea Head is the most westerly point in Europe. Standing there, looking towards America, instils excitement and empathy with the millions of emigrants who took this route. There are splendid views around Slea Head, especially of the Blasket Islands and the scattered rocks, which are all part of an exploded volcanic area. The storms of September 1588 drove four ships of the Spanish Armada through the Basket Sound. Two reached shelter by superb seamanship, but a third sped through the sound with its sails in tatters and crashed onto the two other ships. Nonetheless, the other two eventually returned to Spain. The population of the Great Blasket Island, evacuated in the 1950′s, produced several Irish books, including a bestseller, translated as Twenty Years A Growing by Maurice O' Sullivan, and a masterpiece, The Islandman by Thomas O' Crohan. In addition, the autobiography of a resident storyteller of the Great Blasket Island, Peig Sayers, was published in 1936. The tour also takes in the countryside where David Lean filmed Ryan's Daughter and the landscape backdrops for the Irish scenes from the Tom Cruise and Nicole Kidman film Far and Away.
The tour returns to the coach park in Dingle at 15.15 for another brief stop. The town of Dingle is full of wonderful shops and worth a walkabout. Onwards to the very famous Crean's Bar in Annascaul, home of the Arctic Explorer Tom Crean.
Our journey leads to Ashe's Bar in Camp at 16.15 for afternoon tea. After a brief stop, our tour continues to Tralee to The Aquadome at 16.45. Unfortunately, our day concludes when we return to Killarney Main Street at 17.30 hrs.